Progress Reporting and Cancellation
With GemBox.Spreadsheet you can track the progress of long-running operations like loading and saving large Excel files, and you have the option to cancel them. Currently, the supported operations are loading XLSX files and saving XLSX, PDF, and image files by handling the XlsxLoadOptions.ProgressChanged, XlsxSaveOptions.ProgressChanged, PdfSaveOptions.ProgressChanged, and ImageSaveOptions.ProgressChanged events.
The following example is a simple console application that shows the save progress of a large file.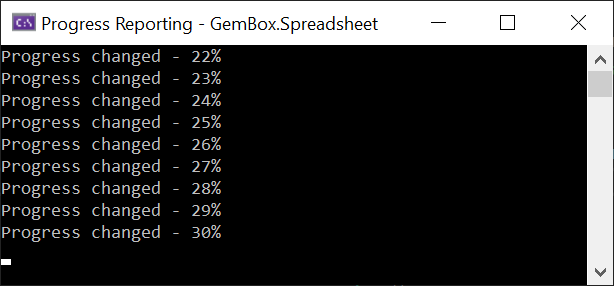 The ProgressChanged event is fired on the same thread that started the operation. Therefore, in a WPF application, if the operation is started in the UI thread, the thread is blocked and the changes made as a response to the fired event will not be shown.
The following example shows how to use Tasks to run the load operation in a new thread and how to use SynchronizationContext to make changes to the progress bar on the UI thread.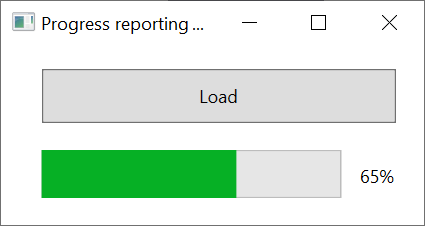 Similarly to WPF, to show the progress of an operation in the UI, it is necessary to run the operation in a separate thread and report the changes on the UI thread.
The following example shows how to display the progress of a load operation in the progress bar.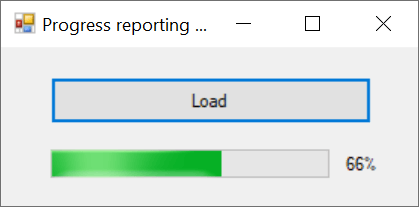 By handling the ProgressChanged event in the save or load options, GemBox.Spreadsheet gives you the ability to cancel the given operation.
The following example shows how to cancel the saving of a file in a console application after a certain time.
The following example shows how to implement a button in WPF that cancels the load operation.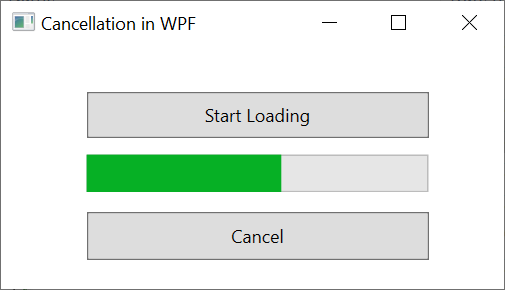 Want more?
---
Like it?
---
Published:
December 14, 2019
| Modified:
December 4, 2020
| Author:
Marek Turis