Add Shapes to PowerPoint Slides in C# and VB.NET
Presentation slides can contain various Drawing elements. One particular kind of drawing is a Shape.
A shape has geometry (GeometryShape.ShapeType) and can be filled or outlined with ShapeFormat. It also can contain Text.
For more information about drawing types in GemBox.Presentation, see the GemBox.Presentation content model help page.
The example below shows how you can create and customize shapes in your PowerPoint slides in C# and VB.NET using the GemBox.Presentation API.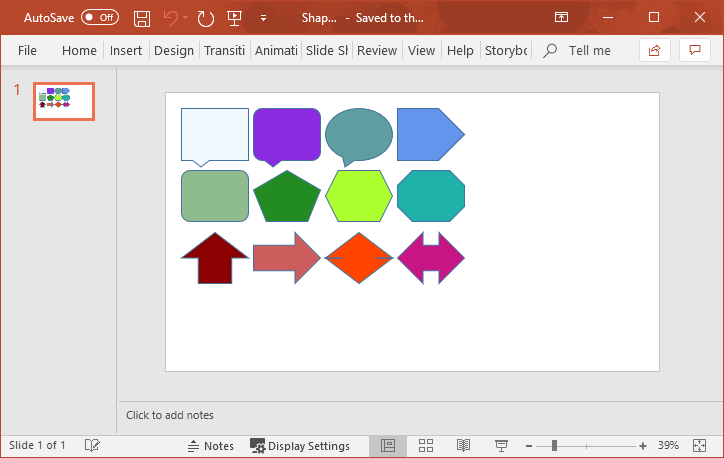 using GemBox.Presentation;

class Program
{
    static void Main()
    {
        // If using the Professional version, put your serial key below.
        ComponentInfo.SetLicense("FREE-LIMITED-KEY");

        var presentation = new PresentationDocument();

        // Create new slide; will create "custom" layout slide and default master slide.
        var slide = presentation.Slides.AddNew(SlideLayoutType.Custom);

        slide.Content.AddShape(ShapeGeometryType.RectangularCallout, 30, 30, 130, 100, LengthUnit.Point).Format.Fill.SetSolid(Color.FromName(ColorName.AliceBlue));
        slide.Content.AddShape(ShapeGeometryType.RoundedRectangularCallout, 170, 30, 130, 100, LengthUnit.Point).Format.Fill.SetSolid(Color.FromName(ColorName.BlueViolet));
        slide.Content.AddShape(ShapeGeometryType.OvalCallout, 310, 30, 130, 100, LengthUnit.Point).Format.Fill.SetSolid(Color.FromName(ColorName.CadetBlue));
        slide.Content.AddShape(ShapeGeometryType.Pentagon, 450, 30, 130, 100, LengthUnit.Point).Format.Fill.SetSolid(Color.FromName(ColorName.CornflowerBlue));

        slide.Content.AddShape(ShapeGeometryType.RoundedRectangle, 30, 150, 130, 100, LengthUnit.Point).Format.Fill.SetSolid(Color.FromName(ColorName.DarkSeaGreen));
        slide.Content.AddShape(ShapeGeometryType.RegularPentagon, 170, 150, 130, 100, LengthUnit.Point).Format.Fill.SetSolid(Color.FromName(ColorName.ForestGreen));
        slide.Content.AddShape(ShapeGeometryType.Hexagon, 310, 150, 130, 100, LengthUnit.Point).Format.Fill.SetSolid(Color.FromName(ColorName.GreenYellow));
        slide.Content.AddShape(ShapeGeometryType.Octagon, 450, 150, 130, 100, LengthUnit.Point).Format.Fill.SetSolid(Color.FromName(ColorName.LightSeaGreen));

        slide.Content.AddShape(ShapeGeometryType.UpArrow, 30, 270, 130, 100, LengthUnit.Point).Format.Fill.SetSolid(Color.FromName(ColorName.DarkRed));
        slide.Content.AddShape(ShapeGeometryType.RightArrow, 170, 270, 130, 100, LengthUnit.Point).Format.Fill.SetSolid(Color.FromName(ColorName.IndianRed));
        slide.Content.AddShape(ShapeGeometryType.UpDownArrow, 310, 270, 130, 100, LengthUnit.Point).Format.Fill.SetSolid(Color.FromName(ColorName.OrangeRed));
        slide.Content.AddShape(ShapeGeometryType.LeftRightArrow, 450, 270, 130, 100, LengthUnit.Point).Format.Fill.SetSolid(Color.FromName(ColorName.MediumVioletRed));

        presentation.Save("Shapes.%OutputFileType%");
    }
}
Imports GemBox.Presentation

Module Program

    Sub Main()

        ' If using the Professional version, put your serial key below.
        ComponentInfo.SetLicense("FREE-LIMITED-KEY")

        Dim presentation = New PresentationDocument

        ' Create New slide; will create "custom" layout slide And default master slide.
        Dim slide = presentation.Slides.AddNew(SlideLayoutType.Custom)

        slide.Content.AddShape(ShapeGeometryType.RectangularCallout, 30, 30, 130, 100, LengthUnit.Point).Format.Fill.SetSolid(Color.FromName(ColorName.AliceBlue))
        slide.Content.AddShape(ShapeGeometryType.RoundedRectangularCallout, 170, 30, 130, 100, LengthUnit.Point).Format.Fill.SetSolid(Color.FromName(ColorName.BlueViolet))
        slide.Content.AddShape(ShapeGeometryType.OvalCallout, 310, 30, 130, 100, LengthUnit.Point).Format.Fill.SetSolid(Color.FromName(ColorName.CadetBlue))
        slide.Content.AddShape(ShapeGeometryType.CloudCallout, 450, 30, 130, 100, LengthUnit.Point).Format.Fill.SetSolid(Color.FromName(ColorName.CornflowerBlue))

        slide.Content.AddShape(ShapeGeometryType.ActionButtonEnd, 30, 150, 130, 100, LengthUnit.Point).Format.Fill.SetSolid(Color.FromName(ColorName.DarkSeaGreen))
        slide.Content.AddShape(ShapeGeometryType.ActionButtonForwardOrNext, 170, 150, 130, 100, LengthUnit.Point).Format.Fill.SetSolid(Color.FromName(ColorName.ForestGreen))
        slide.Content.AddShape(ShapeGeometryType.ActionButtonHelp, 310, 150, 130, 100, LengthUnit.Point).Format.Fill.SetSolid(Color.FromName(ColorName.GreenYellow))
        slide.Content.AddShape(ShapeGeometryType.ActionButtonHome, 450, 150, 130, 100, LengthUnit.Point).Format.Fill.SetSolid(Color.FromName(ColorName.LightSeaGreen))

        slide.Content.AddShape(ShapeGeometryType.UpArrow, 30, 270, 130, 100, LengthUnit.Point).Format.Fill.SetSolid(Color.FromName(ColorName.DarkRed))
        slide.Content.AddShape(ShapeGeometryType.UpArrowCallout, 170, 270, 130, 100, LengthUnit.Point).Format.Fill.SetSolid(Color.FromName(ColorName.IndianRed))
        slide.Content.AddShape(ShapeGeometryType.UpDownArrow, 310, 270, 130, 100, LengthUnit.Point).Format.Fill.SetSolid(Color.FromName(ColorName.OrangeRed))
        slide.Content.AddShape(ShapeGeometryType.UpDownArrowCallout, 450, 270, 130, 100, LengthUnit.Point).Format.Fill.SetSolid(Color.FromName(ColorName.MediumVioletRed))

        presentation.Save("Shapes.pptx")
    End Sub
End Module
See also
---
Next steps