Shape Formatting in PowerPoint files in C# and VB.NET
GemBox.Presentation supports ShapeFormat options like fill and outline. You can control the style, width, dash style, color of the line and fill color.
With the example below you can learn how to draw and format some of the available shapes and formatting options available in GemBox.Presentation, using C# and VB.NET.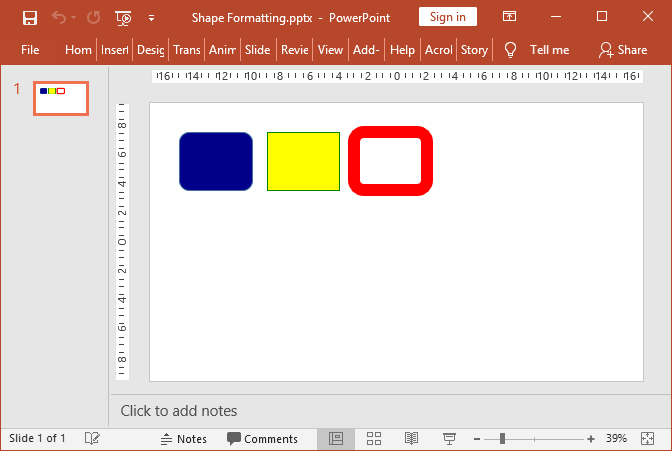 using GemBox.Presentation;

class Program
{
    static void Main()
    {
        // If using the Professional version, put your serial key below.
        ComponentInfo.SetLicense("FREE-LIMITED-KEY");

        var presentation = new PresentationDocument();

        // Create new slide.
        var slide = presentation.Slides.AddNew(SlideLayoutType.Custom);

        // Create new "rounded rectangle" shape.
        var shape = slide.Content.AddShape(
            ShapeGeometryType.RoundedRectangle, 2, 2, 5, 4, LengthUnit.Centimeter);

        // Get shape format.
        var format = shape.Format;

        // Get shape fill format.
        var fillFormat = format.Fill;

        // Set shape fill format as solid fill.
        fillFormat.SetSolid(Color.FromName(ColorName.DarkBlue));

        // Create new "rectangle" shape.
        shape = slide.Content.AddShape(
            ShapeGeometryType.Rectangle, 8, 2, 5, 4, LengthUnit.Centimeter);

        // Set shape fill format as solid fill.
        shape.Format.Fill.SetSolid(Color.FromName(ColorName.Yellow));

        // Set shape outline format as solid fill.
        shape.Format.Outline.Fill.SetSolid(Color.FromName(ColorName.Green));

        // Create new "rounded rectangle" shape.
        shape = slide.Content.AddShape(
            ShapeGeometryType.RoundedRectangle, 14, 2, 5, 4, LengthUnit.Centimeter);

        // Set shape fill format as no fill.
        shape.Format.Fill.SetNone();

        // Get shape outline format.
        var lineFormat = shape.Format.Outline;

        // Set shape outline format as single solid red line.
        lineFormat.Fill.SetSolid(Color.FromName(ColorName.Red));
        lineFormat.DashType = LineDashType.Solid;
        lineFormat.Width = Length.From(0.8, LengthUnit.Centimeter);
        lineFormat.CompoundType = LineCompoundType.Single;

        presentation.Save("Shape Formatting.%OutputFileType%");
    }
}
Imports GemBox.Presentation

Module Program

    Sub Main()

        ' If using the Professional version, put your serial key below.
        ComponentInfo.SetLicense("FREE-LIMITED-KEY")

        Dim presentation = New PresentationDocument

        ' Create New slide.
        Dim slide = presentation.Slides.AddNew(SlideLayoutType.Custom)

        ' Create New "rounded rectangle" shape.
        Dim shape = slide.Content.AddShape(
            ShapeGeometryType.RoundedRectangle, 2, 2, 5, 4, LengthUnit.Centimeter)

        ' Get shape format.
        Dim format = shape.Format

        ' Get shape fill format.
        Dim fillFormat = format.Fill

        ' Set shape fill format as solid fill.
        fillFormat.SetSolid(Color.FromName(ColorName.DarkBlue))

        ' Create new "rectangle" shape.
        shape = slide.Content.AddShape(
            ShapeGeometryType.Rectangle, 8, 2, 5, 4, LengthUnit.Centimeter)

        ' Set shape fill format as solid fill.
        shape.Format.Fill.SetSolid(Color.FromName(ColorName.Yellow))

        ' Set shape outline format as solid fill.
        shape.Format.Outline.Fill.SetSolid(Color.FromName(ColorName.Green))

        ' Create new "rounded rectangle" shape.
        shape = slide.Content.AddShape(
            ShapeGeometryType.RoundedRectangle, 14, 2, 5, 4, LengthUnit.Centimeter)

        ' Set shape fill format as no fill.
        shape.Format.Fill.SetNone()

        ' Get shape outline format.
        Dim lineFormat = shape.Format.Outline

        ' Set shape outline format as single solid red line.
        lineFormat.Fill.SetSolid(Color.FromName(ColorName.Red))
        lineFormat.DashType = LineDashType.Solid
        lineFormat.Width = Length.From(0.8, LengthUnit.Centimeter)
        lineFormat.CompoundType = LineCompoundType.Single

        presentation.Save("Shape Formatting.%OutputFileType%")
    End Sub
End Module
See also
---
Next steps
---
Published:
December 13, 2018
| Modified:
December 19, 2022
| Author:
Marek Turis