Rotate/flip images in Xamarin
GemBox.Imaging is a standalone .NET component with cross-platform support. You can use it on non-Windows platforms like Xamarin and Mono, enabling you to run it on Android and iOS mobile devices.
With GemBox.Imaging you can process your images (read, write, convert, and edit image files) from native mobile apps.
The following example shows how you can load, edit, and save files in a Xamarin.Forms mobile application.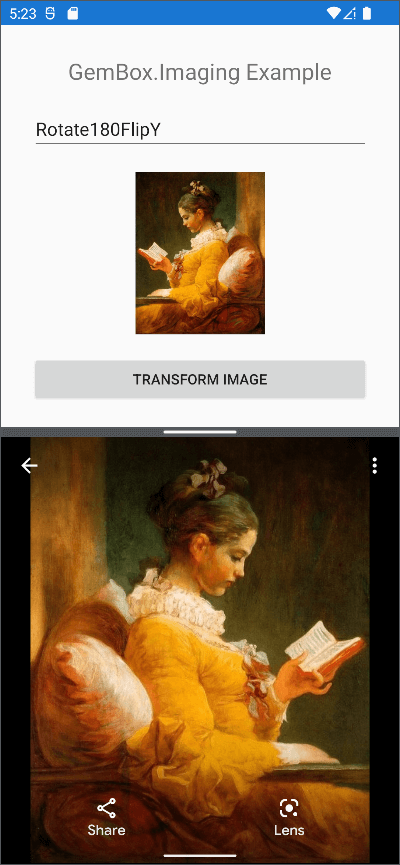 <ContentPage xmlns="http://xamarin.com/schemas/2014/forms"
             xmlns:x="http://schemas.microsoft.com/winfx/2009/xaml"
             xmlns:d="http://xamarin.com/schemas/2014/forms/design"
             xmlns:mc="http://schemas.openxmlformats.org/markup-compatibility/2006"
             mc:Ignorable="d"
             x:Class="ImagingXamarin.MainPage">

    <StackLayout Padding="30" 
                 Spacing="20">

        <Label Text="GemBox.Imaging Example"
               HorizontalOptions="Center"
               FontSize="Large" />

        <Picker x:Name="rotateFlipPicker" Title="Rotation/Flipping" ItemsSource="{Binding RotateFlipOptions}" ItemDisplayBinding="{Binding Text}" />

        <Image x:Name="sourceImage" Source="" HeightRequest="160" WidthRequest="160" />

        <Button x:Name="button"
                Text="TRANSFORM IMAGE"
                Clicked="Button_Clicked"/>

    </StackLayout>
</ContentPage>
using GemBox.Imaging;
using ImagingXamarin.Models;
using System;
using System.IO;
using System.Net;
using Xamarin.Essentials;
using Xamarin.Forms;

public partial class MainPage : ContentPage
{
    private byte[] imageData;

    public MainPage()
    {
        ComponentInfo.SetLicense("FREE-LIMITED-KEY");
        InitializeComponent();

        BindingContext = new RotateFlipViewModel();
    }

    protected override void OnAppearing()
    {
        base.OnAppearing();

        if (imageData == null)
            using (var client = new WebClient())
                this.imageData = client.DownloadData("https://www.gemboxsoftware.com/imaging/examples/101/resources/FragonardReader.jpg");

        this.sourceImage.Source = ImageSource.FromStream(() => new MemoryStream(this.imageData));
    }

    private string RotateImage(Stream stream)
    {
        var documentPath = Environment.GetFolderPath(Environment.SpecialFolder.MyDocuments);
        var selectedRotationFlipping = (RotateFlipOption)rotateFlipPicker.SelectedItem;
        var destinationFilePath = Path.Combine(documentPath, $"{selectedRotationFlipping.Text}.jpg");
        using (var image = GemBox.Imaging.Image.Load(stream))
        {
            image.RotateFlip(selectedRotationFlipping.Type);
            image.Save(destinationFilePath);
        }
        return destinationFilePath;
    }

    private async void Button_Clicked(object sender, EventArgs e)
    {
        button.IsEnabled = false;

        try
        {
            var filePath = RotateImage(new MemoryStream(this.imageData));
            await Launcher.OpenAsync(new OpenFileRequest(Path.GetFileName(filePath), new ReadOnlyFile(filePath)));
        }
        catch (Exception ex)
        {
            await DisplayAlert("Error", ex.Message, "Close");
        }

        button.IsEnabled = true;
    }

    public class RotateFlipOption
    {
        public RotateFlipType Type { get; set; }
        public string Text { get; set; }
    }

    public class RotateFlipViewModel
    {
        public ICollection<RotateFlipOption> RotateFlipOptions { get; set; }

        public RotateFlipViewModel()
        {
            // Filling the collection for picker with possible RotateFlipTypes.
            this.RotateFlipOptions = Enum.GetNames(typeof(RotateFlipType))
                .Select(x => new RotateFlipOption
                {
                    Text = x,
                    Type = (RotateFlipType)Enum.Parse(typeof(RotateFlipType), x)
                }).ToList();
        }
    }
}

See also
---
Next steps
---
Published:
September 21, 2022
| Modified:
November 17, 2022
| Author:
Ercan Görgülü