Load a Calendar in C# and VB.NET
Gembox.Email allows you to load a Calendar from a file or a stream in iCalendar format (.ics). The loaded Calendar can be modified, saved or added to a MailMessage object.
The following example shows how you can load a Calendar from an iCalendar file and display its properties and components. The calendar's components are Calendar.Tasks used for specifying to-do lists, and Calendar.Events used for specifying meeting requests, appointments, alarms, etc.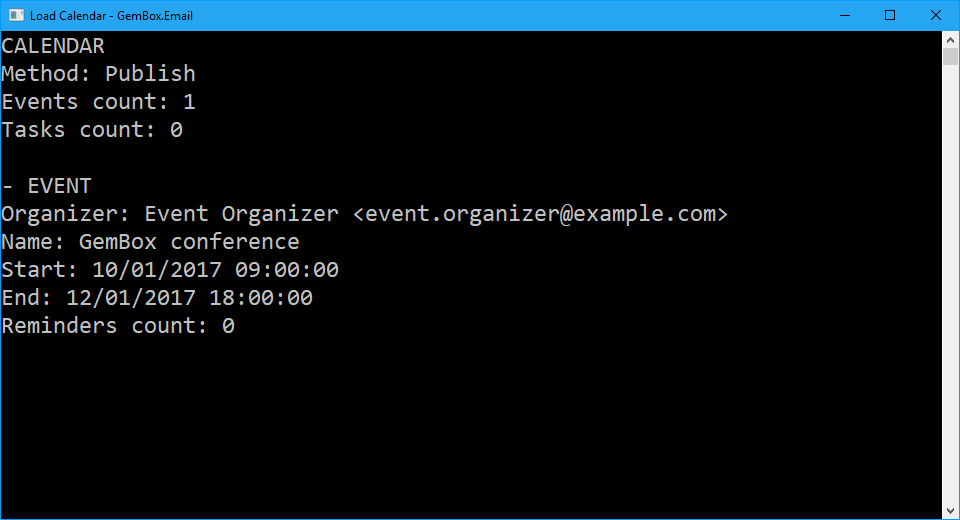 using System;
using GemBox.Email;
using GemBox.Email.Calendar;

class Program
{
    static void Main()
    {
        // If using the Professional version, put your serial key below.
        ComponentInfo.SetLicense("FREE-LIMITED-KEY");

        // Load calendar.
        Calendar calendar = Calendar.Load("%InputFileName%");

        Console.WriteLine("CALENDAR");
        Console.WriteLine($"Method: {calendar.Method}");
        Console.WriteLine($"Events count: {calendar.Events.Count}");
        Console.WriteLine($"Tasks count: {calendar.Tasks.Count}");

        // Iterate through all events.
        Console.WriteLine();
        foreach (Event ev in calendar.Events)
        {
            Console.WriteLine("- EVENT");
            Console.WriteLine($"Organizer: {ev.Organizer}");
            Console.WriteLine($"Name: {ev.Name}");
            Console.WriteLine($"Start: {ev.Start:G}");
            Console.WriteLine($"End: {ev.End:G}");
            Console.WriteLine($"Reminders count: {ev.Reminders.Count}");

            // Iterate through all reminders.
            foreach (Reminder reminder in ev.Reminders)
            {
                Console.WriteLine("-- REMINDER");
                Console.WriteLine($"Action: {reminder.ReminderAction}");
                Console.WriteLine($"Days to trigger before start: {reminder.TriggerBeforeStart?.Days}");
            }
        }

        // Iterate through all tasks.
        Console.WriteLine();
        foreach (Task task in calendar.Tasks)
        {
            Console.WriteLine("- TASK");
            Console.WriteLine($"Organizer: {task.Organizer}");
            Console.WriteLine($"Name: {task.Name}");
            Console.WriteLine($"Start: {task.Start:G}");
            Console.WriteLine($"Deadline: {task.Deadline:G}");
            Console.WriteLine($"Reminders count: {task.Reminders.Count}");

            // Iterate through all reminders.
            foreach (Reminder reminder in task.Reminders)
            {
                Console.WriteLine("-- REMINDER");
                Console.WriteLine($"Action: {reminder.ReminderAction}");
                Console.WriteLine($"Days to trigger before start: {reminder.TriggerBeforeStart?.Days}");
            }
        }
    }
}
Imports System
Imports GemBox.Email
Imports GemBox.Email.Calendar

Module Program

    Sub Main()

        ' If using the Professional version, put your serial key below.
        ComponentInfo.SetLicense("FREE-LIMITED-KEY")

        ' Load calendar.
        Dim calendar As Calendar = Calendar.Load("%InputFileName%")

        Console.WriteLine("CALENDAR")
        Console.WriteLine($"Method: {calendar.Method}")
        Console.WriteLine($"Events count: {calendar.Events.Count}")
        Console.WriteLine($"Tasks count: {calendar.Tasks.Count}")

        ' Iterate through all events.
        Console.WriteLine()
        For Each ev As [Event] In calendar.Events

            Console.WriteLine("- EVENT")
            Console.WriteLine($"Organizer: {ev.Organizer}")
            Console.WriteLine($"Name: {ev.Name}")
            Console.WriteLine($"Start: {ev.Start:G}")
            Console.WriteLine($"End: {ev.End:G}")
            Console.WriteLine($"Reminders count: {ev.Reminders.Count}")

            ' Iterate through all reminders.
            For Each reminder As Reminder In ev.Reminders

                Console.WriteLine("-- REMINDER")
                Console.WriteLine($"Action: {reminder.ReminderAction}")
                Console.WriteLine($"Days to trigger before start: {reminder.TriggerBeforeStart?.Days}")
            Next
        Next

        ' Iterate through all tasks.
        Console.WriteLine()
        For Each task As Task In calendar.Tasks

            Console.WriteLine("- TASK")
            Console.WriteLine($"Organizer: {task.Organizer}")
            Console.WriteLine($"Name: {task.Name}")
            Console.WriteLine($"Start: {task.Start:G}")
            Console.WriteLine($"Deadline: {task.Deadline:G}")
            Console.WriteLine($"Reminders count: {task.Reminders.Count}")

            ' Iterate through all reminders.
            For Each reminder As Reminder In task.Reminders

                Console.WriteLine("-- REMINDER")
                Console.WriteLine($"Action: {reminder.ReminderAction}")
                Console.WriteLine($"Days to trigger before start: {reminder.TriggerBeforeStart?.Days}")
            Next
        Next
    End Sub
End Module
See also
---
Next steps
---
Published:
December 13, 2018
| Modified:
December 19, 2022
| Author:
Marek Turis