Load and Save Progress Reporting and Cancellation
With GemBox.Document you can track the progress of long-running operations like loading and saving large documents, and you have the option to cancel them. Currently, the supported operations are loading DOCX files and saving DOCX, PDF, and image files. You can track the operations by handling the DocxLoadOptions.ProgressChanged, DocxSaveOptions.ProgressChanged, PdfSaveOptions.ProgressChanged, and ImageSaveOptions.ProgressChanged events.
The following example is a simple console application that shows the save progress of a large document.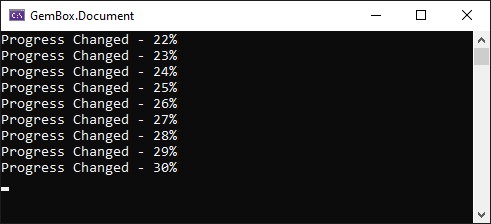 using System;
using GemBox.Document;

class Program
{
    static void Main()
    {
        // If using the Professional version, put your serial key below
        ComponentInfo.SetLicense("FREE-LIMITED-KEY");
        // Use Trial Mode
        ComponentInfo.FreeLimitReached += (eventSender, args) => args.FreeLimitReachedAction = FreeLimitReachedAction.ContinueAsTrial;

        Console.WriteLine("Creating document");

        // Create large document
        var document = new DocumentModel();
        var section = new Section(document);
        document.Sections.Add(section);
        for (var i = 0; i < 10000; i++)
            section.Blocks.Add(new Paragraph(document, i.ToString()));

        // Create save options
        var saveOptions = new DocxSaveOptions();
        saveOptions.ProgressChanged += (eventSender, args) =>
        {
            Console.WriteLine($"Progress changed - {args.ProgressPercentage}%");
        };

        // Save document
        document.Save("document.docx", saveOptions);
    }
}
Imports GemBox.Document

Module Program

    Sub Main()

        ' If using the Professional version, put your serial key below
        ComponentInfo.SetLicense("FREE-LIMITED-KEY")
        ' Use Trial Mode
        AddHandler ComponentInfo.FreeLimitReached,
            Sub(eventSender, args)
                args.FreeLimitReachedAction = FreeLimitReachedAction.ContinueAsTrial
            End Sub

        Console.WriteLine("Creating document")

        ' Create large document
        Dim document As New DocumentModel()
        Dim section As New Section(document)
        document.Sections.Add(section)
        For i As Integer = 0 To 10000
            section.Blocks.Add(New Paragraph(document, i.ToString()))
        Next

        ' Create save options
        Dim saveOptions = New DocxSaveOptions()
        AddHandler saveOptions.ProgressChanged,
            Sub(eventSender, args)
                Console.WriteLine($"Progress changed - {args.ProgressPercentage}%")
            End Sub

        ' Save document
        document.Save("document.docx", saveOptions)
    End Sub
End Module
See also
---
Next steps