Mail Merge in Word with C# and VB.NET
Mail merge is the process of merging or importing data from a data source to a Word document. With GemBox.Document you can do a mail merge programmatically, using C# and VB.NET. In essence, the process involves replacing the Field elements of the MergeField type with values from from provided objects.
GemBox.Document exposes all mail merge related operations and options through the DocumentModel.MailMerge property.
You can read the complete documentation on the Mail Merge help page.
The following example shows how you can perform a simple mail merge by importing data from an anonymous type object.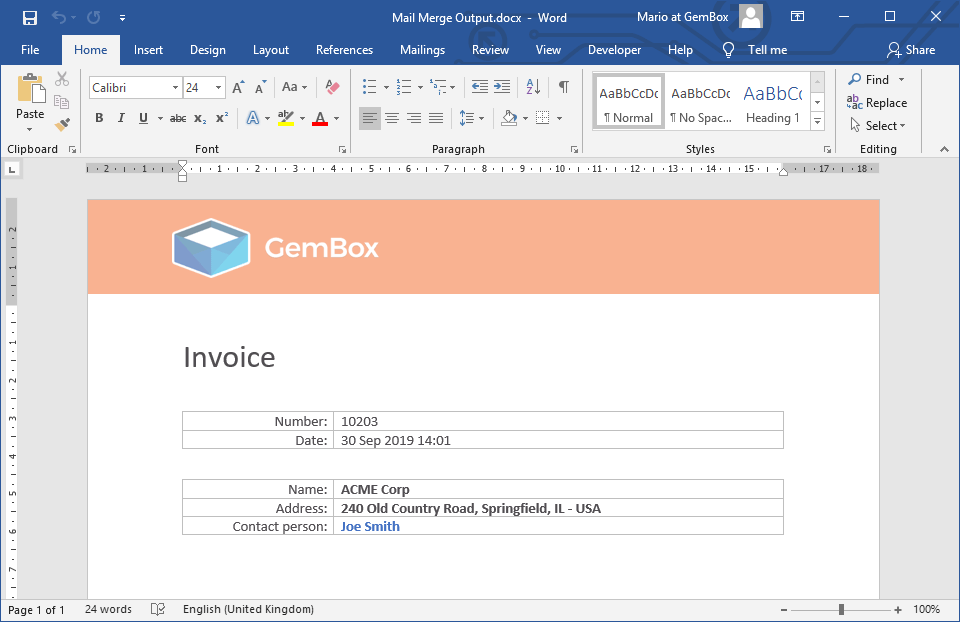 using System;
using GemBox.Document;

class Program
{
    static void Main()
    {
        // If using the Professional version, put your serial key below.
        ComponentInfo.SetLicense("FREE-LIMITED-KEY");

        var document = DocumentModel.Load("%InputFileName%");

        // Create data source for mail merge process.
        var data = new
        {
            Number = 10203,
            Date = DateTime.Now,
            Company = "ACME Corp",
            Address = "240 Old Country Road, Springfield, IL",
            Country = "USA",
            FullName = "Joe Smith"
        };

        // Execute mail merge process.
        document.MailMerge.Execute(data);

        document.Save("Mail Merge Output.%OutputFileType%");
    }
}
Imports System
Imports GemBox.Document

Module Program

    Sub Main()

        ' If using the Professional version, put your serial key below.
        ComponentInfo.SetLicense("FREE-LIMITED-KEY")

        Dim document = DocumentModel.Load("%InputFileName%")

        ' Create data source for mail merge process.
        Dim data = New With
        {
            .Number = 10203,
            .Date = DateTime.Now,
            .Company = "ACME Corp",
            .Address = "240 Old Country Road, Springfield, IL",
            .Country = "USA",
            .FullName = "Joe Smith"
        }

        ' Execute mail merge process.
        document.MailMerge.Execute(data)

        document.Save("Mail Merge Output.%OutputFileType%")

    End Sub
End Module
See also
---
Next steps